Younger clients demand SIPP tech improvements
DateNovember 18, 2020
CategoryInsights
CategoryNews
Our recent adviser research has revealed that younger clients are increasingly demanding technological improvements from Self Invested Personal Pension (SIPP) providers as the market expands.
Over three-quarters of advisers said that younger generations of clients regard technological investment as a significant consideration when choosing a pension provider, adding to the already significant push towards technologically advanced solutions within the sector.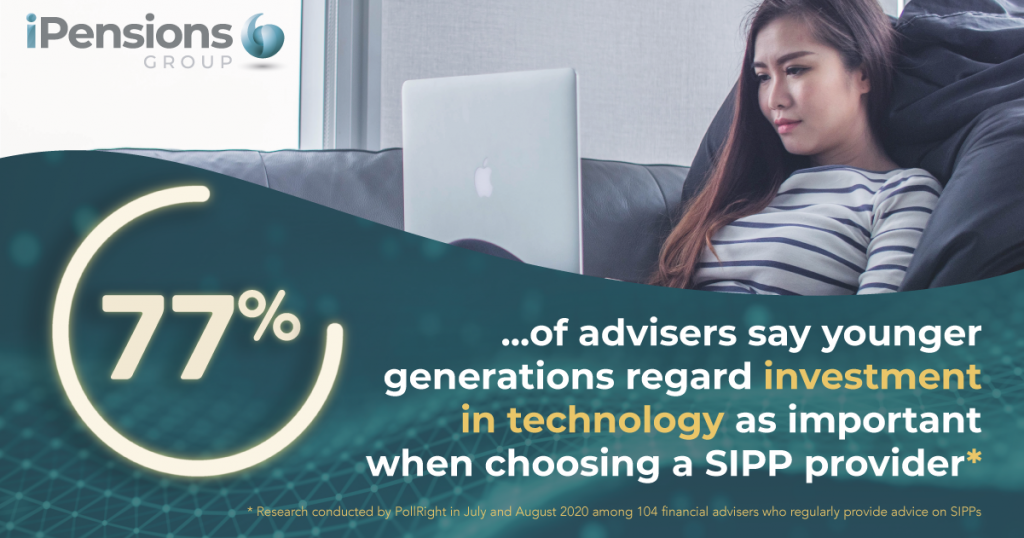 With around 77% of advisers saying that the ongoing COVID-19 crisis has changed the way they use technology, pressure from younger clients will further add to the pace of technological innovation in the SIPP market.
However, with only just over half (52%) of advisers saying they fully understand how clients are using tech, further insight may be needed to gain a clearer picture of client's expectations surrounding technology.
In addition to this, nearly a third (31%) are worried that consolidation among SIPP providers is slowing down the pace of technological innovation.
A word of caution
With the march towards technology as strong as ever, some are remaining cautious, with warnings of new risks coming from advisers.
Around half (48%) of advisers say clients' ability to trade instantly in response to stock market news has meant people making decisions that cost them money and which they regret in the long run.
This has led to concern that a switch to technology could make clients more prone to 'knee-jerk' reactions when managing their investments online.
Group CEO Sandra Robertson commented on the results of the latest adviser research:
"The SIPP market is expanding year on year with new members investing and new products being launched to meet demand.

But advisers are clearly concerned that without technology investment, SIPPs may no longer appear attractive to suitable clients. Adviser and member portals are increasingly a must-have for providers who want to compete."
Going on to talk about the importance of providers offering more than just technology solutions, she said:
"Technology is not the 'be all and end all' as it must be combined with and supported by strong, reliable and personable customer service."

iPensions Group and technological innovation
Here at iPensions Group, we have made significant investments in technology over the last three years, driven by a focus on innovation in the SIPP market as well as efficient and timely support for advisers and members.
We recently launched The Platform SIPP which introduces the technology to enable advisers and clients to consolidate their pensions into an online managed SIPP solution. Providing 24/7 hour online access, The Platform SIPP is the first in a series of technology-led pensions solutions designed to provide advisers and their clients with transparency, control and choice.
*Research conducted by PollRight in July and August 2020 among 104 financial advisers who regularly provide advice on SIPPs
Disclaimer 
The content of this article is for general information purposes only and should not be construed as legal, financial or taxation advice. You should not rely on the information contained in this article as legal, financial or taxation advice. The content of this article is based on information currently available to us, and the current laws in force in the UK. The content does not take account of individual circumstances and may not reflect recent changes in the law since the date it was created. It is essential that detailed financial and tax advice should be sought in both jurisdictions and any legal advice, if required.
iPensions Group Limited is authorised and regulated by the Financial Conduct Authority, Licence Number 464521.