We are launching The Platform SIPP
DateSeptember 22, 2020
CategoryNews
Technology enhanced pension consolidation and portfolio access
We are delighted to announce the launch of The Platform SIPP, the first in a series of technology-led pensions solutions designed to provide advisers and their clients with transparency, control, and choice.
The Platform SIPP, which is available to UK and non-UK residents, underlines our drive for innovation in the SIPP market and introduces technology enabling advisers and clients to consolidate their pensions into an online managed solution.
Clients benefit from 24/7 online access and monitoring of their portfolio and a transparent fee structure. There are no dealing fees for online direct dealing and no SIPP set-up fee or transfer in fee. The annual trust fee is £200, and the platform service fee is 0.35% a year. The Platform SIPP provides access to more than 2,500 investment options including funds, investment trusts and ETFs, as well as cash and deposit accounts. All investment options have gone through an exacting due diligence and selection process to ensure adviser and client peace of mind. The Platform SIPP only accepts assets complying with the FCA's list of standard assets.
The launch is supported by a strong, knowledgeable award-winning SIPP team which will help advisers create and deliver better client outcomes efficiently.
Sandra Robertson, Group CEO said: "The market for pension consolidation will continue to expand as UK and non-UK residents look to bring all their pension schemes together and The Platform SIPP has been designed to support them. 
It is a highly competitive option for advisers which gives control and flexibility while offering 24/7 access to manage and monitor portfolios. We are delighted to have delivered the first launch under iPensions Group which demonstrates our ambition and focus on growth in the market."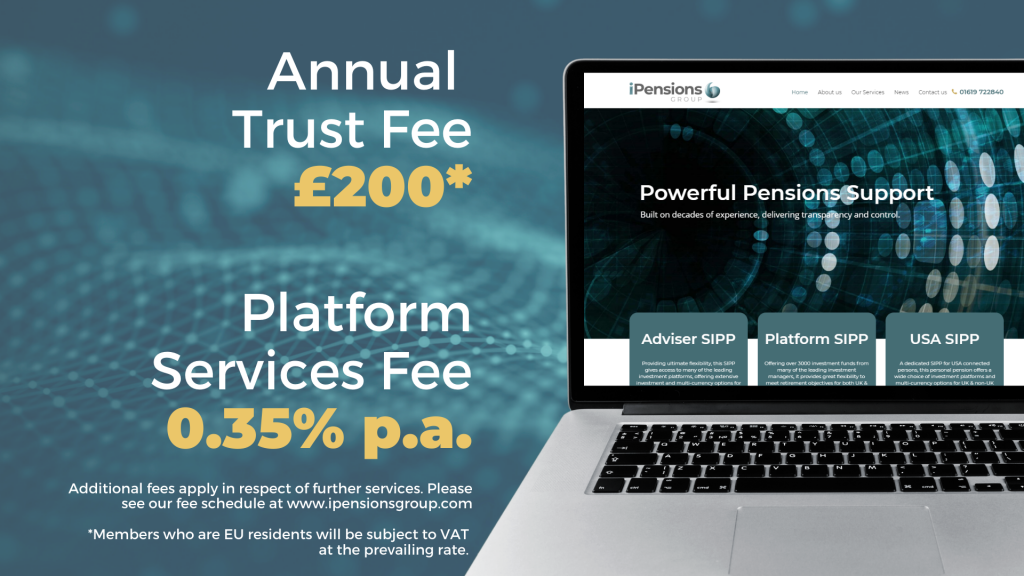 Full details of the charging structure are available online here and advisers can contact the support team on advisersupport@ipensionsgroup.com.
Disclaimer 
The content of this article is for general information purposes only and should not be construed as legal, financial or taxation advice. You should not rely on the information contained in this article as legal, financial or taxation advice. The content of this article is based on information currently available to us, and the current laws in force in the UK. The content does not take account of individual circumstances and may not reflect recent changes in the law since the date it was created. It is essential that detailed financial and tax advice should be sought in both jurisdictions and any legal advice, if required.
iPensions Group Limited is authorised and regulated by the Financial Conduct Authority, Licence Number 464521.